SHREVEPORT, La. (Ark-La-Tex Weekend) - A festival celebrating the 318 area's culture, including music, food, and art will be rocking the Caddo Common Park, and entry is free.
On Saturday, March 18, from 2 p.m. until 8 p.m., the 318 Day Festival will kick off with live music performances. The festival is a day-long festival being held in Caddo Common Park, 869 Texas Avenue, Shreveport.
The 318 Day Festival will celebrate what makes our region unique, from great food, outstanding musicians, and unmatched talented artists.
"Too often we hear about the negative in our area or how we've ranked low on this list, but we never hear and celebrate what makes our city great and that's the people. Shreveport has some of the most talented people in the world, and we must invest and celebrate that talent," said Billy Anderson Festival Organizer.
"The Shreveport-Bossier area has so many unique and diverse local attractions," said Stacy Brown, president of the Shreveport-Bossier Convention and Tourist Bureau. "This 318 Day celebration is a wonderful new festival that promises to bring us together to experience music and art in our area."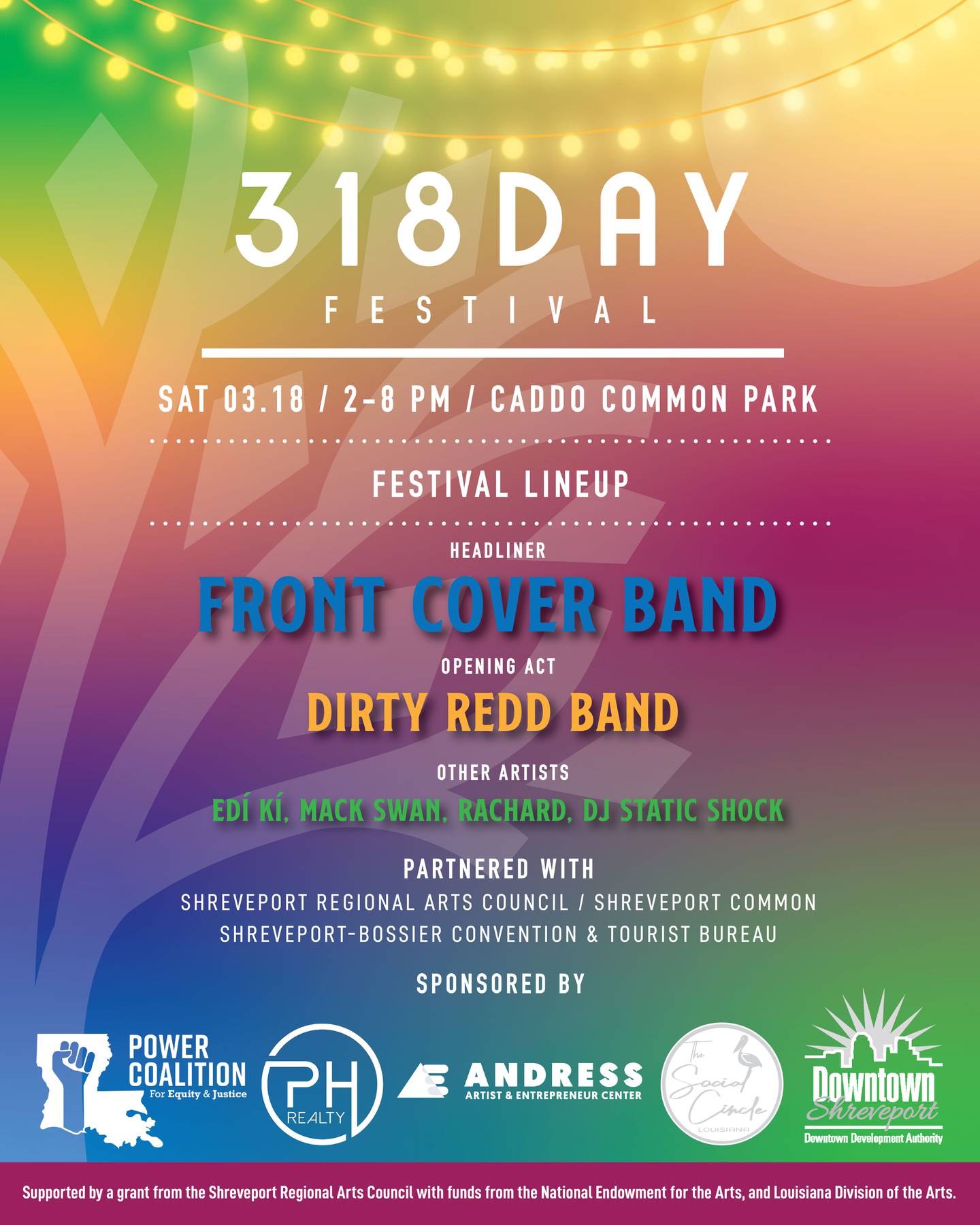 Featured Music:
Dirty Redd Band
Edi Ki
Mack Swan
DJ Static
Q Major the Violinist
Front Cover Band
Food trucks and vendors will be on the scene to highlight the food and art of the area.
For more information about the event, visit the Facebook event page at https://fb.me/e/10QRzHmwP.
Also happening on March 18 is the 6th Annual Cane River Film Festival, https://www.arklatexweekend.com/2023/03/12/6th-annual-cane-river-film-festival-spotlights-films-around-world/.
---
KSLA Café interviews >>>
Copyright 2023 KSLA. All rights reserved.