SHREVEPORT, LA (Ark-La-Tex Weekend) - The Shreveport Regional Arts Council presents the 36th Annual ArtBreak. It's the largest student arts festival in the South. Caddo Parish schools, private schools and local home school organizations come together to showcase over 3,000 visual, literary and performing pieces of art. The 95,000 square foot Shreveport Convention Center will be filled with artwork from grades K-12. Not only will there be artwork, but young writers and poets will have their literary works on display. $25,000 in cash awards will be handed out to the winners.
In addition to the visual and literary arts, dozens of performing arts programs will take to three stages. Every thirty minutes, listen to honor bands, watch school dance companies and more as you take in all of the art. For students interested in creating films, the LA Film Prize Jr. contest offers them an opportunity to have their film shown and one film will win 'Best in Show.'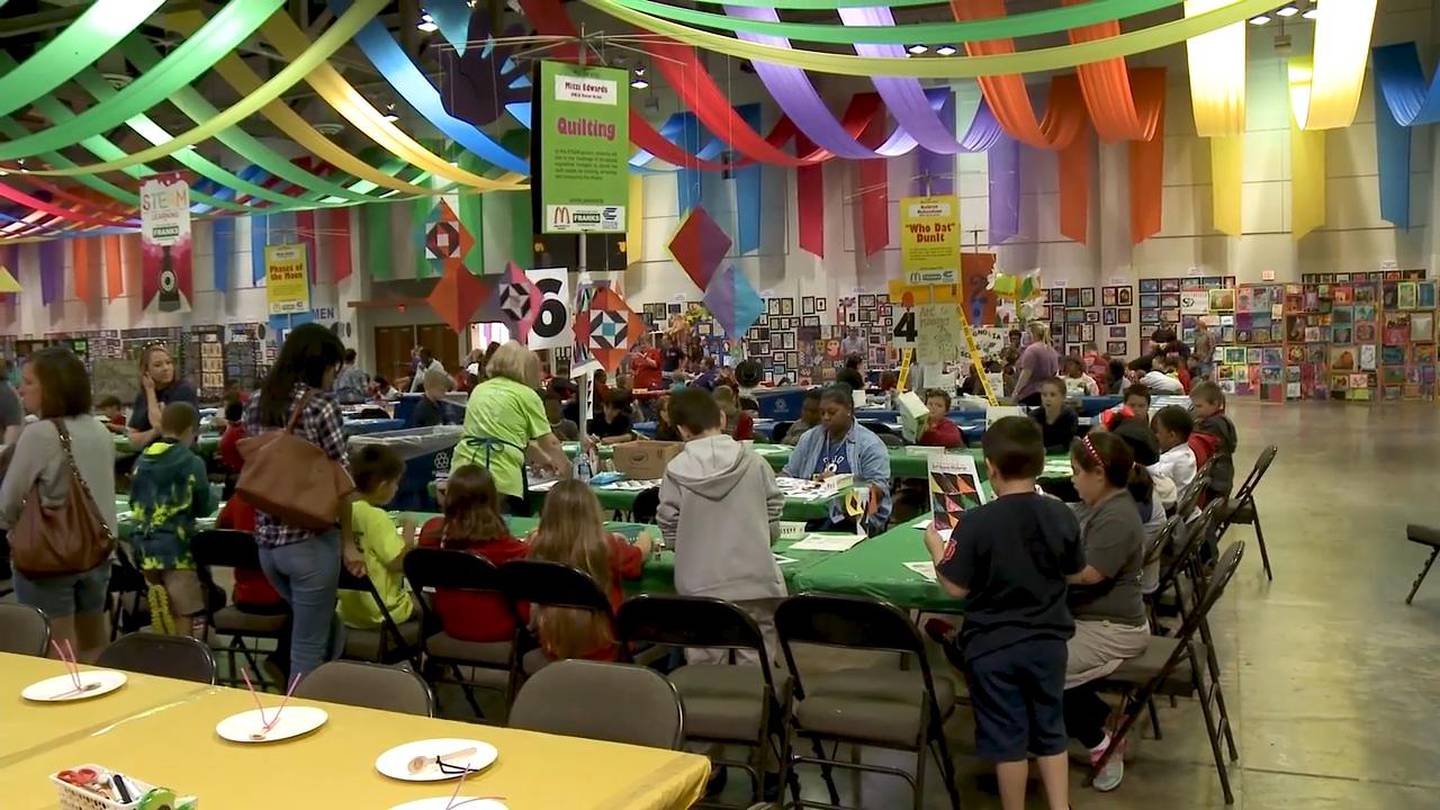 Every year ArtBreak adds something new to the largest student art festival and 2022 is no exception. Families can help design the next Bakowski Bridge of Lights show during the festival. This special Light It Up! Activity allows the whole family to create part of the first ArtBreak Light Show to debut on the bridge by marking the "Bridge Coloring Book," and coloring the three light conversion that you want to see light up the Texas Street Bridge during GlowFest on June 3rd. Secondly, the Shreveport Symphony Orchestra and The Shreve Memorial Library plan to perform Kermit Poling's ochestration of William Joyce's The Leaf Men and the Brave Good Bugs. Several S.T.E.A.M. activities are planned for you.
New art forms take center stage this year. First is a Sizzle Culinary Competition. Watch on Saturday, May 14, 2022 to see the top Caddo Career & Technology Center students battle it out over a secret ingredient! Second, Fashion Forward takes the stage with local students racing the clock to create a new look out of the wildest non-fabric materials.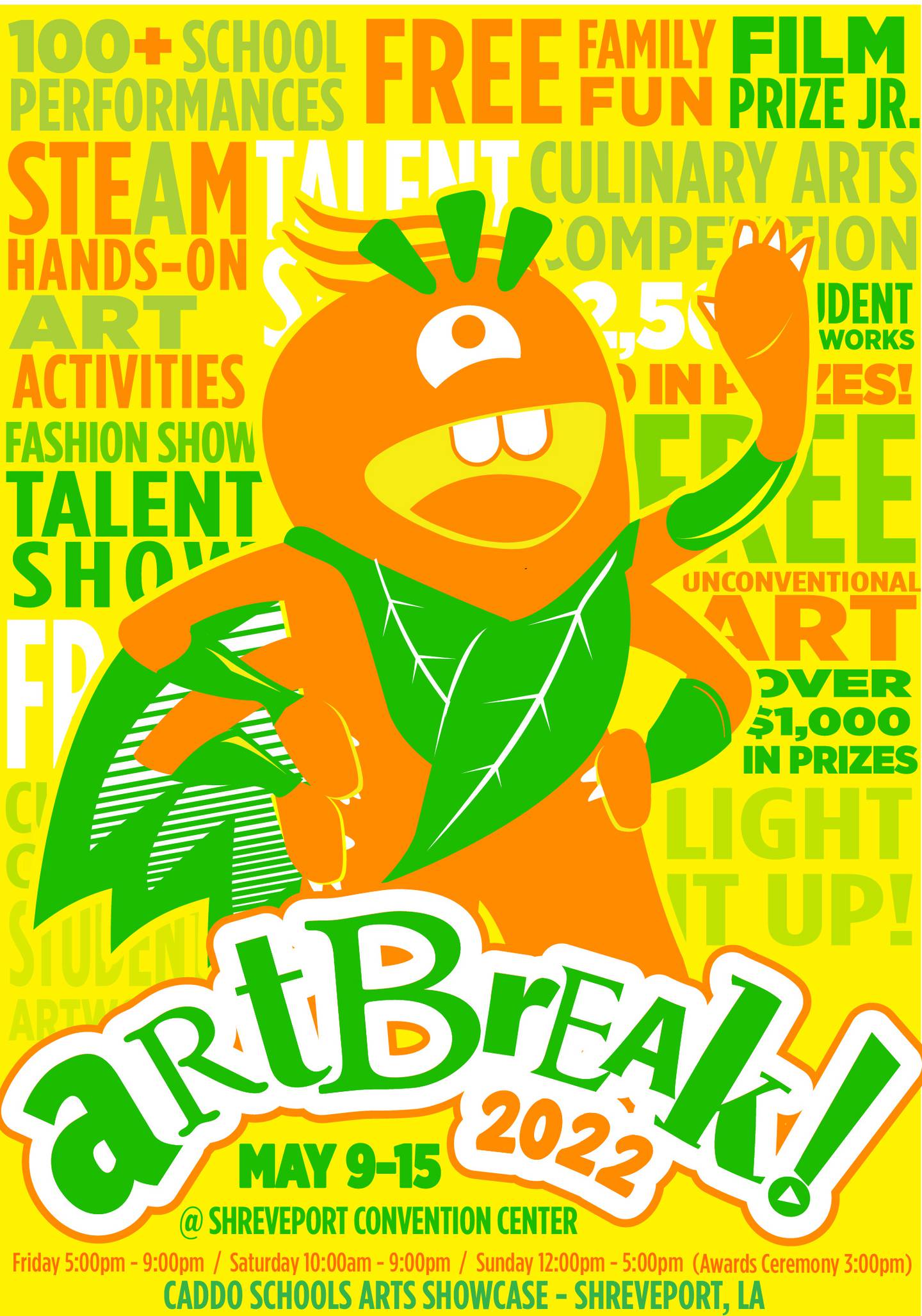 Not only can you see art but you can make art! Sit down and participate in over 50 S.T.E.A.M. hands-on art activities. Parents and grandparents are welcome to sit down with their children to see how art is important to S.T.E.M. and create something to take home. Creative geniuses from the Northwest Louisiana Artists Directory and community organizations will be instructing and supervising the S.T.E.A.M. activities.
ArtBreak 2022 will open to the public on these dates…
Friday, May 13, 5:00 – 9:00 PM:
Film Prize Jr. Screenings - 5:00 PM - 9:00 PM 2nd Floor
Fashion Forward - 6:00 PM – 9:00 PM 2nd Floor, Ballroom A&B
Saturday, May 14, 10:00 AM - 9:00 PM
Film Prize Jr. Screenings - 10:00 AM - 9:00 PM 2nd Floor
Sizzle Culinary Art Series -10:00 AM – 4:00 PM Middle Hall on 1st Floor
Caddo's All-Parish Honor's Orchestra and Choir - 10:00 AM – 3:00 PM: Citizens National Bank Stage.
KTAL-6 ArtBreak's Got Talent 6:00 PM – 9:00 PM - Citizens National Bank Stage
Sunday, May 15, Noon - 5:00 PM
Shreveport Symphony Orchestra Leaf Men Performance - 1:00 PM - 2:00 PM - Citizens National Bank Stage
Film Prize Jr. Awards Ceremony - 2:00 PM - 3:00 PM - Citizens National Bank Stage
ArtBreak Awards Ceremony - 3:00 PM - 4:00 PM - Citizens National Bank Stage
For more information, check out the ArtBreak website.
Related Topic: Design began recently on the 2022 Christmas in the Sky. Learn more about the theme here.